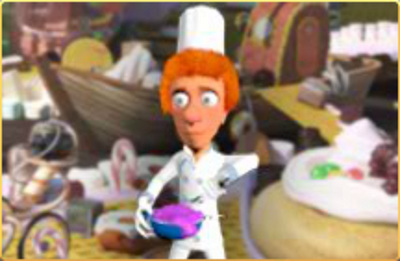 Confectionary is the place where dreams of many children come true and where grown-ups feel like children. But what if the best confectionary refuses to fulfil orders and all sweets are spoiled and taste badly?
Explore the mystery of the Confectionary together with Sweet Tooth Tom and save the delicious order!
Explore the Confectionary and save the face of chief Jacque! He will present you with the Gingerbread Chest. Prepare to eat your full!
Little Perfection
Edit
| Quest | Item | Location | Mode | Ghost |
| --- | --- | --- | --- | --- |
| Old Receipe | Monmure Receipe | Library | -- | -- |
| Lure for Confectioner | Cinnamon Stick | Library | Shadow | -- |
| Uncommon Flour | Cake Flour | Boulangerie | -- | -- |
| Add some Icing | Pomegranate | Café | Puzzle | -- |
| Orange Peel | Orange | Café | -- | -- |
Prosper Bull: The only things we need to find to bake the "Monmure" cake are a baking dish and whipped topping for decoration. Sweet Tooth Tom may help us. He works in the Confectionary we are trying to get into and he knows his way around dessert.
Prosper Bull: Well! This cake can even be served to the King. I am sure it will open the doors to the Confectionary where the best cooks are dreaming to get.
Confectioner's Fears
Edit
Prosper Bull: The Confectioner agreed to let us in in return for the cake receipe, but warned us about a dragon who got out from nowhere right into the Confectionary. You can manage it, can you not?
Organize an expedition and feed the dragon
Explore the Confectionary
(further quests see there)
Prosper Bull: I noticed something strange: it seems Jacque is afraid of his own kitchen. He was not calmed down at all with the news that you got the dragon out of the Confectionary.
Reward: Gingerbread Chest
Edit
The Gingerbread Chest contains: