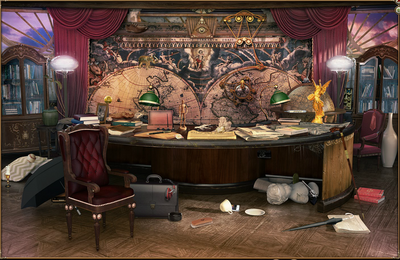 Main article: The Bellows Manor
The Study is the oldest building in the Professor's Manor. It is the most unusual and mysterious place. The Professor could spend hours here in solitude.
| | |
| --- | --- |
| Unlock | x Coins |
| Entry fee | 36 energy |
| Duration | permanent |
| Search fee | max. 40 energy |
Items to Get
Edit
Special Items are things you can only get here and nowhere else. Regulars can be found in several locations. There are no dedicated quests for finding regulars, at least not after you have found them for the first time. After the quest, specials are getting regular.
Ghost Banishers
Ghost Trap, Phial of Darkness, Old Amphora
Energy Sources
Soda, Energy Jam, Ethereal Catalyst, Bio-module

Gadgets

Bell, Hammer of Thor, Phase Watch, Solar Lamp, Magic Magnifying Glass
Helpers
Pilgrim's Compass, Armillary Sphere, Astronomical Clock, Nutritious Grains, Copper Rivets, Roll of Canvas, Straw Bale, Fruit Tartlet, Refreshing Dew, Silicon Flint, Bright Button, Thorium Ore, Golden Mask, Dragon Egg, Paranormal Trap, Genie's Dwelling
Maya Rune Chests
Small, Medium and Large Kit for Beginners
Beast Rune Chests
Small, Medium and Large Hunter Kit
Dragon Food
Lunar Nectar, Honey Drink, Sweet Roots, Sugar Cane, Azure Grapes
Trophy
Mysterious Journal
Special Items
Amber Box: Alabaster Cufflinks, Diamond Glass, Laser Pen, Leather Cover Diary
Animal Language: Wolf Tusk
Denial of Gravity: Jade Elephant
Fireball: Mother-of-Pearl Matches
Golden Magnet: Solar Nugget
Helium Reptile: Drum Echo
Invisibility Potion: Colorless Ink
Neural Foil: Devilish Curl
Nymph's Voice: Gentle Breath
Reactive Glass: Disintegration Matrix
Reptile Rustling: Lace Monitor Egg
Optical Reflector: Hand Rattle
For quests please look at the Quests page!
Search Thingies
Edit
| | |
| --- | --- |
| Ace / Playing Card | |
| Art Mannequin | |
| Ashtray | |
| Baseball | |
| Boot / Shoes | |
| Butterflies / Collection of Insects / Collection of Butterflies | |
| Cactus | |
| Candle / Candle Holder | |
| Cell Phone / Smartphone | |
| Elephant / Figure of an Elephant | |
| Fountain Pen / Pen | |
| Fruit / Orange | |
| Glasses | |
| Gun / Revolver | |
| Headphones | |
| Heart | |
| Inkpot | |
| Old Radio / Radio / Radio Receiver | |
| Photo Camera | |
| Pocket Watch / Watch | |
| Shoe Brush | |
| Spades | |
| Thermometer | |
| Tie | |
| Walking Cane | |