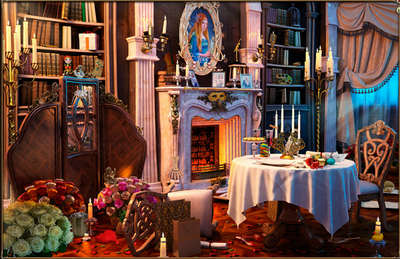 Main article: St. Valentine's Day
The Manor has a special room for lovers. It is gorgeously decorated with candles and vases full of roses. A light lavender scent is floating in the air. Visit the most beautiful Romantic Living Room! Your heart will be filled with love!
| | |
| --- | --- |
| Unlock | Lovers' Key |
| Entry fee | 36  + 5 hearts |
| Duration | Event related |
| Search fee | max. 55  + 5 hearts |
Items to Get
Edit
| | |
| --- | --- |
| Ghost Banishers |       |
| Energy Sources |         |
| Gadgets |           |
| Helpers |     |
| Maya Rune Chests | Small, Medium and Large Kit for Beginners |
| Beast Rune Chests | Small, Medium and Large Hunter Kit |
| Dragon Food | |
| Trophy | Professions and Kisses (Part of the reward chest) |
Lovers' BouquetEdit
Quest
Item
Mode
Ghost
White Daffodil
White Daffodil
--
--
Lilac and Bell Flower
Purple Lilac
Blue Bell-Flower
Shadows
Night
--
Ghost in Love
--
--
any
Rose and Tulip
Coral Rose
Red Tulip
Jumbled
Puzzle
--
Felicia the Fortuneteller: Our bouquet must have several Lotus Flowers. They stand for sincere feelings. I should also add some Oak Leaves to the composition. Will you help us find Lotus and Oak Leaves?
Felicia the Fortuneteller: All right. Our bouquet is complete and we must put the flowers into water. We will explain our dear men what the secret meaning of each flower is if they don't understand it on their own. I would like them to study the language of flowers.
Romantic CakeEdit
Quest
Item
Mode
Ghost
Arithmetic of Love
--
--
any
Sponge Cake
--
Sponge Cake Layers
Cellar - Shadows
Night
--
Delicious Filling
Praline Paste
Butter Cream
Jumbled
Shadows
--
Genie in Love
--
--
any
Secrets of Marzipan
White Marzipan
Decoration of Roses
Puzzle
Reverse
--
Octopus with Sweet Tooth
--
--
any
Martha the Maid: I know some cake decoration secrets. These are silver and golden sugar beads. They will look great on the cake.
Martha the Maid: I hope Andrew won't follow the Professor's example and will return to the Manor soon. His lovely Valentine Note make me think so.
Get the reward!
Edit
Open the event icon in RoM and click on "Reward" at the bottom of the page. You can collect the reward as long as the event is running. So be sure to be in time! You can keep the reward in your backpack as long as you like. Before you open it, be sure that you check your  

and  

status. If you're short before levelling up and still have  

, make sure to use your energy up before opening the chest.
Search Thingies
Edit
| | |
| --- | --- |
| Bucket with Ice | |
| Cello | |
| Colorful Bottle | |
| Corkscrew | |
| Duckling | |
| Feltboot | |
| Figure of an Angel | |
| Heart Cushion | |
| Hedgehog | |
| Little Train | |
| Love | |
| Mask | |
| Matreshka | |
| Microphone | |
| Palette | |
| Paperboat | |
| Pearl | |
| Pencil | |
| Pineapple | |
| Pomegranate | |
| Pug | |
| Spoon | |
| Swan | |
| Walking Cane | |
| Wicker Vase | |