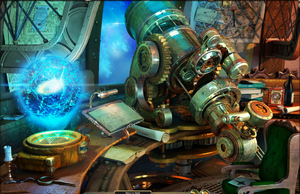 Main article: The Bellows Manor
Professor's Observatory has all the necessary equipment to observe the movement of astral bodies and astological phenomena.
| | |
| --- | --- |
| Unlock | x Coins |
| Entry fee | 30 energy |
| Duration | permanent |
| Search fee | max. 50 energy |
Items to Get
Edit
Special Items are things you can only get here and nowhere else. Regulars can be found in several locations. There are no dedicated quests for finding regulars, at least not after you have found them for the first time. After the quest, specials are getting regular.
Ghost Banishers
Ghost Trap, Phial of Darkness, Old Amphora, Paranormal Trap, Genie's Dwelling
Energy Sources
Soda, Energy Jam, Ethereal Catalyst, Bio-module
Gadgets
Bell, Hammer of Thor, Phase Watch, Solar Lamp, Magic Magnifying Glass
Helpers
Pilgrim's Compass, Armillary Sphere, Astronomical Clock, Nutritious Grains, Copper Rivets, Roll of Canvas, Straw Bale, Fruit Tartlet, Refreshing Dew, Silicon Flint, Bright Button, Thorium Ore, Golden Mask, Dragon Egg
Maya Rune Chests
Small, Medium and Large Kit for Beginners
Beast Rune Chests
Small, Medium and Large Hunter Kit
Dragon Food
Lunar Nectar, Honey Drink, Sweet Roots, Sugar Cane, Azure Grapes
Trophy
About Black Holes
Special Items
Amphibians Croaking: Toadstone
Blond Curl: Bow of Absent-Mindedness
Helium Reptile: Radiant Topaz
Golden Magnet: Roman Coin
Good Luck Talisman: Magician's Compass
Monster Roars: Harpy Hair
Mermaid Scales: Porcelain Periscope
Nymph's Voice: Sound of Wind
Optical Reflector: Mechanical Star
Reptile Rustling: White Python Skin
Silver Key of Sparks: Wizard Seal
Star Map: Moon Rock, Astronomer's Hat, Telescope Lenses, Star Dust, Sundial
UFO Battery: Alien Rock
For quests please look at the Quests page!
Search Thingies
Edit
| | |
| --- | --- |
| A Musical Instrument / Mandolin | |
| Astronomer's Hat | |
| Binocular / Opera Glasses | |
| Box of Matches / Matches | |
| Calculator / Engineering Calculator | |
| Candy Box / Chocolate Candies / Heart | |
| Cat | |
| Chinese Chopsticks | |
| Coconut | |
| Compass | |
| Crossbow | |
| Globe | |
| Green Pear / Pear | |
| Hourglass | |
| Lightning Ball | |
| Pitcher | |
| Planet | |
| Radio Receiver | |
| Ribbon | |
| Sailboat | |
| Scissors | |
| Slippers | |
| Thermos | |
| Typewriter | |
| UFO | |