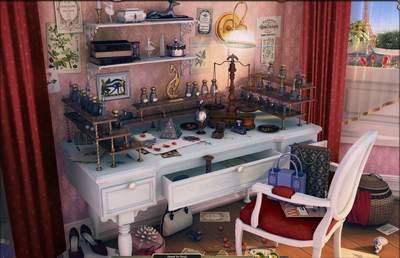 Main article: Secrets of Paris
This exhibition features the most exquisite fragrances from all over the world. It will make any visitor happy.
| | |
| --- | --- |
| Unlock | 50,000 Coins |
| Entry fee | 36 energy |
| Duration | permanent |
| Search fee | max. 55 energy |
Items to Get
Edit
Special Items are things you can only get here and nowhere else. Regulars can be found in several locations. There are no dedicated quests for finding regulars, at least not after you have found them for the first time. After the quest, specials are getting regular.
Ghost Banishers
Ghost Trap, Phial of Darkness, Old Amphora, Paranormal Trap, Genie's Dwelling
Energy Sources
Soda, Energy Jam, Ethereal Catalyst, Bio-module
Gadgets
Bell, Hammer of Thor, Phase Watch, Solar Lamp, Magic Magnifying Glass
Helpers
Striped Shirt, Black Beret, Juggler's Knives, Clown Boots, Refreshing Dew, Silicon Flint, Bright Button, Thorium Ore, Golden Mask, Dragon Egg
Maya Rune Chests
Small, Medium and Large Kit for Beginners
Beast Rune Chests
Small, Medium and Large Hunter Kit
Dragon Food
Lunar Nectar, Honey Drink, Sweet Roots, Sugar Cane, Azure Grapes
Trophy
Aromas of France
Special Items
Book of Elves: Flask with Fog
Gloomy Silence: Ethereal Parasite
Golden Magnet: Retort with Oil
Helium Reptile: Glowing Corindon
Magic Sphere: Old Compass
Migration Sapphire: Cork Figure, Spectral Ribbon, Biosensor Glimmer, Clinking Pebbles, Broken Echo
For quests please look at the Quests page!
Search Thingies
Edit
| | |
| --- | --- |
| Alarm Clock | |
| Bow Tie | |
| Crystal Lamp | |
| Fabergé Egg | |
| Feather | |
| Framed Photograph / Photo Frame | |
| Globe | |
| Harmonica | |
| Heart | |
| Lipstick | |
| Needle Pad | |
| Old Lamp | |
| Peach | |
| Phone | |
| Record / Vinyl Disc | |
| Ruby | |
| Shawl | |
| Sponge | |
| Sun Glasses | |
| Swan | |
| Tartlet | |
| Teapot | |
| Teddy Bear | |
| Umbrella | |
| Walking Cane | |