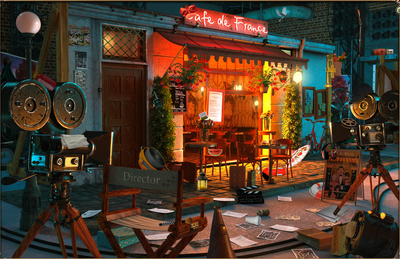 Main article: Cinema in Paris
The Movie Set is a special room related to the Cinema in Paris event. After the event is expired, the location can't be visited anymore.
| | |
| --- | --- |
| Unlock | Roaring Megaphone |
| Entry fee | 36  |
| Duration | Event related |
| Search fee | max. 55  |
Expedition
Edit
Type: Film Fan Dragon
Expedition Time: 2 h
Food: 24.000
Feed Times: 60
Room Time: 4 h
| | |
| --- | --- |
| | 3, 20, 20, 1, 2, 2, 2, 2, 10 |
| | 10, 10, 2, 1, 2, 2, 2, 10 |
| | 1, 5, 5, 1, 1, 10, 1 |
| | 2, 2, 10, 1, 1 |
Items to Get
Edit
Ghost Banishers
     
Energy Sources
       
Gadgets
         
Helpers
   
Maya Rune Chests
Small, Medium and Large Kit for Beginners
Beast Rune Chests
Small, Medium and Large Hunter Kit
Dragon Food
Special Items
Filming Equipment: Camera Crane, Illumination Tool, Clapstick, Microphone Boom Arm, Film Camera
Scattered Scenery: Copper Lamp, Cuckoo Clock, Magic Carpet, Coral Necklace, Chess Board
Filming EquipmentEdit
Quest
Item
Location
Mode
Ghost
Night Rehearsal
Film Camera
Movie Set
--
--
Camera Man
Camera Crane
Movie Set
Puzzle
--
Light and Darkness
Illumination Tool
Movie Set
Night
any
Roll the Cameras! Slate!
Clapstick
Microphone Boom Arm
Movie Set
--
Shadows
--
Filming is in full swing
Find 2 Electric Cables
Find 2 Tripods
Secrets of Paris
--
--
Prosper Bull: The position of the Movie Camera, all the Illumination Tools and the Microphone change after each scene. The Makeup Artist fixes the makeup of the artists. I wonder how it is possible not to get confused with all this equipment. The Movie Mummy renders its assistance to the crew again.
Prosper Bull: Finally it's time to take a break. It is either a late dinner, or a very early breakfast. The sun will rise soon. The Ghosts will leave to take a rest. The first day of filming was very tense. The Director looks exhausted and is wiping sweat from his forehead. When the break is over, the crew will continue their work.
Mummy in FilmEdit
You receive this quest before assembling the Filming Equipment.

Prosper Bull: In the first scene of the movie a small Ghost walked out of a wall and walked out through an old mirror. The movie crew had to take several retakes of this scene and asked the Mummy for help.
Prosper Bull: The first motion film was shown 120 years ago. The viewers were shocked to see their everyday reality on film. They saw a train arriving to the train station, a dancing pantomime, and festivities at a trade fair.
Bonus from Film DirectorEdit
| Quest | Item | Mode | Ghost |
| --- | --- | --- | --- |
| Lamp | Copper Lamp | Night | -- |
| Filming Challenges | Cuckoo Clock | Jumbled | -- |
| Sorceress' Help | Magic Carpet | -- | Ghost |
| Gift from Sweetheart | Coral Necklace | Shadows | -- |
| Ghosts' Games | Chess Board | -- | Ghost |
Prosper Bull: The filming of the movie is coming to an end. Now it's the time for the develpoers, editors, rates, and advertising agencies to do some work. The first movie about Ghosts is coming out very soon.
Prosper Bull: My dear friends, you have also taken a very active part in the filming process. Some of you helped us as designers and scene painters. Others played in crowd scenes. That's why you deserve a surprise bonus from the Movie Director!
Last ShotsEdit
You receive this quest before assembling the Scattered Scenery.

Eleanor: My artistic performance in creating makeup images for the actors has been highly recognized not only by the Movie Director but also by the Movie Mummy. I have become really involved in the process of transforming our mysterious guests into movie actors. Moreover, I have gained a better understanding of them and of their nature.
Eleanor: Once again I would like to say that his work would not be possible without the help of our dear Professor. All of us are missing him terribly and we can't wait to see him back home as soon as possible.
Get the reward!
Edit
Open the event icon in RoM and click on "Reward" at the bottom of the page. You can collect the reward as long as the event is running. So be sure to be in time! You can keep the reward in your backpack as long as you like. Before you open it, be sure that you check your  

and  

status. If you're short before levelling up and still have  

, make sure to use your energy up before opening the chest.
Search Thingies
Edit
| | |
| --- | --- |
| Animal Poster | |
| Bag of Groceries | |
| Bow | |
| Coffee | |
| Director's Cap | |
| Fan | |
| Female Hat | |
| Film | |
| Fire Extinguisher | |
| Headphones | |
| Ketchup | |
| Lantern | |
| Life Saver | |
| Makeup Brush | |
| Pigeon | |
| Polaroid Photo | |
| Radio Set | |
| Rifle | |
| Scenario | |
| Taxi Checkers | |
| Thermos | |
| Towel | |
| Trumpet | |
| Umbrella | |
| Watermelon | |