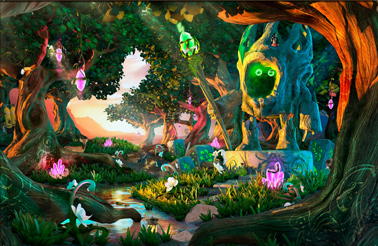 Main article: Valley of Magicians
Be the first to discover a fascinating and serene place, the Enchanted Forest. The air here is filled with magic. The forest is peaceful and tranquil. Enjoy this wonderful and magical place!
Find the components of the ancient Artifact, the Book of Wisdom. It contains the rare spells which very few magicians have access to. People say that the components of this book are located somewhere in the Enchanted Forest. Find these components and assemble the Book of Wisdom!
It is not easy to get into the Enchanted Forest. First of all, you should organize an expedition to the Forest Dragon who guards the gates to the forest. Secondly you should treat the dragon to something tasty, and he will let you through.
Here in the Forest when you get inside the evergreen lush of secular trees you will meet magic people and unique creatures. You will also have a chance to participate in extraordinary adventures.
Expedition
Required
4 Dragon Coins
2 Fiery Seals
2 Paper Lantern
2 Dragon Tablets
Dragon

Type: Forest Dragon Laram
Food: 8.000
Feed Times: 34
Expedition Time: 4 h
Search Time: 12 h
Rewards
Organizer (Red Chest)
Dragon Tablet (1), Honey Drink (12), Creature Summoning Scroll (5),
Crystal Harp (1), Latin Scroll (1), Dragon Coin (2), Energy Extract (3)
Generous (Blue Chest)
Dragon Tablet (1), Creature Summoning Scroll (3), Crystal Harp (2),
Dragon Coin (2), Energy Extract (2), Lunar Nectar (6)
Lucky (Silver Chest)
Dragon Tablet (1), Creature Summoning Scroll (2), Dragon Coin (1),
Energy Extract (1), Lunar Nectar (6), Fruit Ambrosia (6)
Valuable (Brown Chest)
Creature Summoning Scroll (1), Energy Extract (1), Fruit Ambrosia (6)
Items to Get
Ghost Banishers
Ghost Trap, Phial of Darkness, Old Amphora
Energy Sources
Soda, Energy Jam, Etheral Catalyst, Bio-Module

Gadgets

Magic Magnifying Glass, Bell, Hammer of Thor, Phase Watch, Solar Lamp
Helpers
Dragon Egg, Refreshing Dew, Silicon Flint, Bright Button, Thorium Ore, Golden Mask,
Paranormal Trap, Genie's Dwelling
Maya Rune Chests
Small, Medium and Large Kit for Beginners
Beast Rune Chests
Small, Medium and Large Hunter Kit
Dragon Food
Lunar Nectar, Honey Dring, Sweet Roots, Sugar Cane, Azure Grapes
Trophy
Living Giants
Special Items
Illusive Key: Hafnium Bullion, Golden Lotus, Chalcopyrite Ore, Magic of Equilibrium, Marble Rock
Book of Wisdom: Twilight Jasmine, Cobra Scales, Ribbon Lace,
Salamander Leather, Gilded Sheets
Betrayer's Mask: Hydrocyanic Acid
Copper Telescope: Casket with Stars
Giant Fins: Deep Blast, Mermaid's Scales
Ice Whirlpool: Yaranga Blueprint
Protection Mask: Fog Generator
Rubber Gloves: Box with Alarm Clock
Quests
Dryads and Trees
Butler Alfred: Unlock the gate to the Enchanted Forest. Your friends are waiting for you there. I believe that you'll be very sucessful at this stage of your magical adventure. You have no idea that you've already acquired almost all magical skills that you need here, in the Enchanted Forest.
Organize an Expedition. feed Larama the Forest Dragon and enter the Magic Forest.
Explore the Enchanted Forest.
Butler Alfred: I suppose that the Enchanted Forest is the home for Dryads and Trees. However, I wonder how they manage to crawl into our world through the Portal in the Manor. Most probably the ghosts are the answer. It is them who make any gifts in time and space possible.
World Illusions
| Quest | Item | Mode |
| --- | --- | --- |
| Magic People | Marble Rock | Jumbled |
| Elven Magic | Golden Lotus | Night |
| Ice Dragon | Chalcopyrite Ore | Puzzle |
| Second Mission | Magic Equilibrium | Reversed |
| Chaos Among the Elves | Hafnium Bullion | Shadows |
Lairiel: The Elven manuscripts say that thousands of ghosts serve the Arch-Magician Turnbull. These ghosts bring chaos and mess everywhere they go. They creep through every portal and black hole which have always existed between our worlds.
Lairiel: Our worlds have become dangerously close... Only the Bellows can bring things back in order here. Our people and I are always happy to help you and your friends. The new key is in your hands. Go to the Mushroom Forest through the Ice Cavern and please try not to be misled by their mirages. Those places are very strange.
You will come back to this room later with quests from higher rooms.
Next stop: Ice Cavern
Search Thingies
| | |
| --- | --- |
| Amanita | |
| Butterfly | |
| Chest | |
| Clarinet | |
| Crystal Shoe | |
| Dragonfly | |
| Elixir | |
| Fawn | |
| Fern | |
| Footprint | |
| Hang Glider | |
| Lamp | |
| Lightning | |
| Little Monkey | |
| Lizard | |
| Scuba | |
| Sickle | |
| Sphere | |
| Squirrel | |
| Sword | |
| Tin Solder | |
| Tucan | |
| Vest | |
| Wigwam | |
| Wreath | |