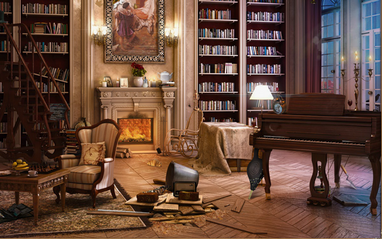 Main article: The Bellows Manor
The Library contains the rarest and most extensive collection of books and printed materials assembled by the Professor.
| | |
| --- | --- |
| Unlock | x Coins |
| Entry fee | 36 energy |
| Duration | permanent |
| Search fee | max. 40 energy |
Items to Get
Edit
Special Items are things you can only get here and nowhere else. Regulars can be found in several locations. There are no dedicated quests for finding regulars, at least not after you have found them for the first time. After the quest, specials are getting regular.
Ghost Banishers
Ghost Trap, Phial of Darkness, Old Amphora, Paranormal Trap, Genie's Dwelling
Energy Sources
Soda, Energy Jam, Ethereal Catalyst, Bio-module
Gadgets
Bell, Hammer of Thor, Phase Watch, Solar Lamp, Magic Magnifying Glass
Helpers
Pilgrim's Compass, Armillary Sphere, Astronomical Clock, Nutritious Grains, Copper Rivets, Roll of Canvas, Straw Bale, Fruit Tartlet, Refreshing Dew, Silicon Flint, Bright Button, Thorium Ore, Golden Mask, Dragon Egg
Maya Rune Chests
Small, Medium and Large Kit for Beginners
Beast Rune Chests
Small, Medium and Large Hunter Kit
Dragon Food
Lunar Nectar, Honey Drink, Sweet Roots, Sugar Cane, Azure Grapes
Trophy
Pick Up and Read
Special Items
Amber Box: Ivory Cup
Amphibians Croaking: Salamander Tail
Denial of Gravity: Tibetan Manuscript
Evaporating Pendant: Pilot Goggles
Fire Ball: Laser Beam
Good Luck Talisman: Clairvoyance Cards
Illusionist's Sphere: Card Top Hat
Invisibility Potion: Secrecy top hat
Malachite Jewelry-Box: Family Photo Album, Photo of the Countess, Grandfather's Watch, Portrait of the Count, Antique Monocle
Monster Roars: Gryphon Feathers
Neural Foil: Minor Xylophone
Optical Reflector: Bohemian Glow
Reactive Glass: Tourmaline Vine
Reptile Rustling: Turtle Beak
Silver Key of Sparks: Celestial Crystal
UFO Battery: Mysterious Scripts
For quests please look at the Quests page!
Search Thingies
Edit
| | |
| --- | --- |
| Alarm Clock | |
| Art Mannequin | |
| Autumn Leaf | |
| Bellows | |
| Blue Glass | |
| Coffee Grinder | |
| Conductor's Baton | |
| Crescent Moon / Moon | |
| Family Photo Album | |
| Flower Basket | |
| Globe | |
| Green Pear | |
| Top Hat | |
| Horn | |
| Music Box | |
| Painting by van Gogh | |
| Pastry | |
| Pile of Magazines | |
| Poker | |
| Radio Receiver | |
| Spyglass | |
| Sugar Bowl | |
| Teapot | |
| Treasure Map | |
| Trowel | |