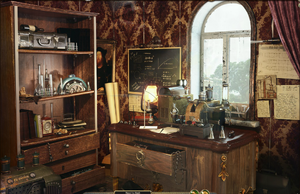 Main article: The Bellows Manor
The Laboratory has everything the Professor needed for his research. This is where he has conducted numerous mysterious experiments and discovered many secrets of the universe.
| | |
| --- | --- |
| Unlock | 20,000 Coins or 50 Gems |
| Entry fee | 36 energy |
| Duration | permanent |
| Search fee | max. 45 energy |
Items to Get
Edit
Special Items are things you can only get here and nowhere else. Regulars can be found in several locations. There are no dedicated quests for finding regulars, at least not after you have found them for the first time. After the quest, specials are getting regular.
Ghost Banishers
Ghost Trap, Phial of Darkness, Old Amphora
Energy Sources
Soda, Energy Jam, Ethereal Catalyst, Bio-module
Gadgets
Bell, Hammer of Thor, Phase Watch, Solar Lamp. Magic Magnifying Glass
Helpers
Dragon Egg, Pilgrims Compass, Armillary Sphere, Astronomical Clock,
Nutritious Grains, Copper Rivets, Roll of Canvas, Straw Bale, Fruit Tartlet,
Refreshing Dew, Silicon Flint, Bright Button, Thorium Ore, Golden Mask,
Paranormal Trap, Genie's Dwelling
Maya Rune Chests
Small, Middle and Large Kit for Beginners
Beast Rune Chests
Small, Middle and Large Hunter Kit
Dragon Food
Lunar Nectar, Honey Drink, Sweet Roots, Sugar Cane, Azure Grapes
Trophy
Experiments with Space
Special Items
Amphibians Croaking: Latimeria Fin
Animal Language: Fox Fur
Denial of Gravity: Weightless Hand
Evaporating Pendant: Hyperjump
Fire Ball: Cold Fire
Good Luck Talisman: Azure Seahorse
llusionist's Sphere: Illusionist's Bowtie
Invisibility Potion: Mask of Concealment
Mermaid Scales: Defense Tusk
Monster Roars: Manticora Tail
Neural Foil: Galactic Almanac
Nymph's Voice: Refined Style
Optical Reflector: Impulse Bracelet
Philosopher's Stone: Cup of Life, Dragon Tooth Amulet, Amethyst Bracelet, Porcelain Candle Holder, Ocean Seashell
Reactive Glass: Reflection Ball
Reptile Rustling: Crocodile Tears
Silver Key of Sparks: Forged Arrowhead
UFO Battery: Unidentified Matter
For quests please look at the Quests page!
Search Thingies
Edit
| | |
| --- | --- |
| Alarm Clock | |
| Billiard Ball | |
| Burger | |
| Carbonated Drink / Lemonade | |
| Chemistry Poster | |
| Chocolate | |
| Compass | |
| Dart | |
| Einstein / Scientist | |
| First Aid Kit | |
| Fragrance | |
| Gear | |
| Gramaphone | |
| Horseshoe | |
| Laser Pointer | |
| Magnet | |
| Microscope | |
| Molecule | |
| Plasma Sphere | |
| Record / Vinyl Disc | |
| Respirator | |
| Soldering Iron | |
| Toy Car | |
| Tweezers | |
| Ultraviolet Lamp | |