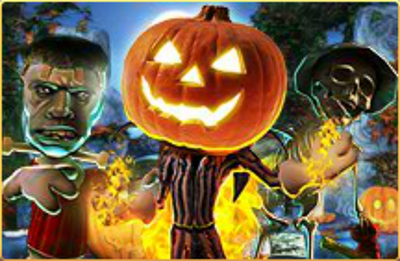 Main article: Events

Celebrate Halloween with Mr. Pumpkin, Dr. Frankenstein and Skeleton Knight, and receive gifts for All Saints' Day. Please, don't forget about the creatures at your friends' places! They need your help!
Helping different creatures, you will be able to create the Horror Key and unlock a new area! Explore the holiday territory! Find the Silver Blade and the Frankenstein Mask at the Pumpkin Patch!
When you have gathered all Halloween items, you should exchange them for the Candy Chest. The Candy Chest contains a lot of useful things. You will find a ton of gadgets, many charching items for Artifacts, and many more special gifts there!
No quests before assembling the Horror Key. You just have to help the creatures. You need a lot of Summoning Scrolls.

Shortly after the start of the Halloween event the Halloween Fair is announced. It takes place when the event is over and lasts for 3 days when opened.
Pumpkin Pie
Edit
Black Ring
Edit
Mr. Pumpkin Head
Edit
Yay! It's Halloween time!
Edit
Martha the Maid: This has been happening every year since the Professor started his experiments with time and space! Right before All Saints' Day mysterious creatures start fooling around and getting ready for the Halloween celebration. Would you like to join them?
Martha the Maid: Look at the costumes which the mysterious creatures have made for the celebration this year! The Pumpkin Head Skeleton which is shining in candle light, and monstrous Dr. Frankenstein look great! I am sure there will be no peace in the Manor during the following two weeks. We will party like crazy!
Reward: Candy Chest
Edit
The Candy Chest contains: