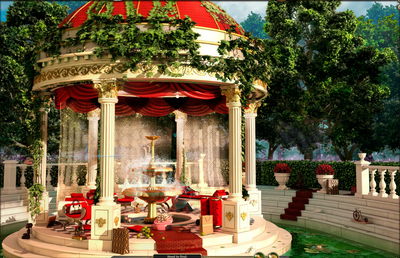 Main article: The Bellows Manor
Marta's favourite place, it is surrounded by secrets. Here Marta enjoyed watching dawns and sunsets, and listening to poems of the last romantics.
| | |
| --- | --- |
| Unlock | 4 X 5 consecutive days of play |
| Entry fee | 36 energy + 5 purple gerbera |
| Duration | 15 days |
| Search fee | max. 45 energy + 5 purple gerbera |
Items to Get
Edit
Special Items are things you can only get here and nowhere else. Regulars can be found in several locations. There are no dedicated quests for finding regulars, at least not after you have found them for the first time. After the quest, specials are getting regular.
Ghost Banishers
Ghost Trap, Phial of Darkness, Old Amphora, Paranormal Trap, Genie's Dwelling
Energy Sources
Soda, Energy Jam, Ethereal Catalyst, Bio-module
Gadgets
Bell, Hammer of Thor, Phase Watch, Solar Lamp, Magic Magnifying Glass
Helpers
Refreshing Dew, Silicon Flint, Bright Button, Thorium Ore, Golden Mask, Dragon Egg
Maya Rune Chests
Small, Medium and Large Kit for Beginners
Beast Rune Chests
Small, Medium and Large Hunter Kit
Dragon Food
Lunar Nectar, Honey Drink, Sweet Roots, Sugar Cane, Azure Grapes
Trophy
Romantic Poetry
Special Items

Mystic Jewelry Box: Stone Rose, Stained Glass, Pearl Shell, Crystal Shoe, Silver Coronet

Box of Wishes: Canary's Heart, Shining Lily, Dandelion Wreath, Cockatoo Feather, Drop of Dew
Mysterious GazeboEdit
Martha the Maid: Whenever things would calm down in the Manor Anrew and I liked to spend time in our Gazebo. Now the Professor locked it. Could you, please, cast the Professor's spell off the Gazebo? If you do so, I will tell you my story.
Assemble Professor Bellow's Map and explore the Gazebo of Mysteries
Martha the Maid: Would you like to know my story? Well, here it is. You can continue exploring as I tell you my story. Just, please, don't forget that any explorations in the Gazebo of Mysteries thakes additional efforts. You also need to have a lot of friends to explore the Gazebo!
You assemble this map by logging into the game on 20 consecutive days. After these, the Gazebo of Mysteries will open for 15 days. Then you need another 20 consecutive login days to open it again. The 15 open days are counting for the 20 login days, so if you login daily, the Gazebo will be closed every 15 days for 5 days and will then be open again. Quests are only appearing at the first visit.
Secrets of FashionEdit
| Quest | Item | Mode | Ghost |
| --- | --- | --- | --- |
| Poems at Sunset | Silver Coronet | -- | -- |
| Firefly | Stone Rose | -- | -- |
| Package from the Doctor | Stained Glass | Shadows | -- |
| Fashionable Gazebo | Pearl Shell | -- | -- |
| Fashionable Items | Crystal Shoe | Night | -- |
Martha the Maid: I see that you keep finding unique things in the Gazebo of Mysteries! As far as I remember, Melissa said that using these items you can either create Artifacts or make treasure boxes for unique objects. Will you share the objects you find in the Gazebo with me? I wouldn't mind to have something like a stylish bracelet or a silk scarf.
Martha the Maid: Congratulations! That's a great award for your courage and dedication! You also seem to have a good sense of style. Continue your explorations in the Gazebo of Mysteries and you will be able to create even more unique Artifacts. See you later in our Gazebo.
Contains: Ethereal Catalyst (1), Bell (3), Magic Magnifying Glass (3), Phase Watch (3)
Nature's AssistanceEdit
| Quest | Item | Mode | Ghost |
| --- | --- | --- | --- |
| Full Moon Mystery | Canary's Heart | -- | -- |
| Radiance and Wind | Shining Lily | Jumbled | -- |
| Andrew's Courage | Dandelion Wreath | -- | -- |
| Ultimate Fear | Cockatoo Feather | -- | -- |
| Round Stone | Drop od Dew | Reverse | -- |
Martha the Maid: The Professor said that this is another way of the forest spirit to strengthen its influence on people's lives. To be more exact, there is an outbreak of energy which is aimed at straightening out people's mistakes. Accordin to the Professor, this energy outbreak happens in the woods around our Manor once in a while..
Martha the Maid: Later, the Professor unraveled all mysteries. He explained this little incident in the following way: "This wood demon called for the lord of snakes to help us!" We believed him and relaxed, and again started to enjoy wonderful evenings in our gazebo.
Search Thingies
Edit
| | |
| --- | --- |
| Autumn Leaf / Maple Leaf | |
| Birdhouse | |
| Bonsai | |
| Box of Chocolates | |
| Butterfly | |
| Cat | |
| Crown | |
| Fan | |
| Figure of an Angel | |
| Flamingo | |
| Garden Pruner | |
| Kiss | |
| Nightingale | |
| Paper Lantern | |
| Pineapple | |
| Postcard | |
| Shoe | |
| Straw Hat | |
| Sunflower | |
| Teapot | |
| Teddy Bear | |
| Umbrella | |
| Vase | |
| Watering Can | |
| Watermelon | |