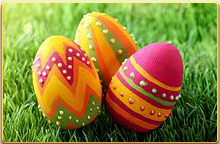 Main article: Events
Jolly spirits of Easter preparations are in every corner of Rooms of Memory. Everyone is enjoying it. Martha prepared a whole basket of professor's favourite candies. Melissa decorated the Manor with dozens of colourful bows. Prosper decided to follow the tradition of hiding Easter eggs with presents.
When Prosper returned from his trip through the Portal he found ladies in tears. Phenomena have stolen all candies and disappeared. While the ladies were busy with phenomena creatures inhabiting the world of Rooms of Memory have pulled down all bows. We must do something to help!
We must return all missing things, prepare for the holiday and fulfill Prosper's task to find Easter eggs. Magical rewards await you!
Find all hidden Easter eggs to fulfill Prosper's task, collect all candies for Martha and return Melissa colorful bows to receive a reward.
There are no single quests for this event. You just have to collect and assemble the baskets via the event quest at the right side of the screen.
Egg Basket
Edit
To assemble the Egg Basket you need 2 Green Fowl-grass from the Tree and 2 Flower Nectar from the Dryad.
Candy Basket
Edit
To assemble the Candy Basket you need 2 Neon Water Lily from the Sea Nymph and 2 Golden Citrine from the Mountain Giant.
Bow Basket
Edit
To assemble the Bow Basket you need 2 Rubies from the Mime and 2 Blue Phianites from the Juggler.
Reward: Easter Cake
Edit

The cake contains: