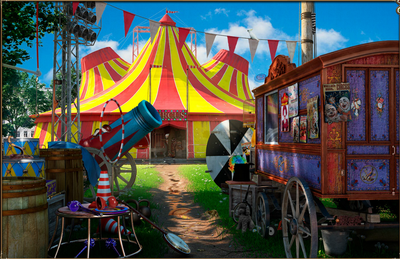 Main article: Traveling Circus
When you enter this tent you will see spectacular circus tricks. You will enjoy the world of challenging circus fantasies!
| | |
| --- | --- |
| Unlock | Circus Key |
| Entry fee | 36 energy + 5 Tickets |
| Duration | Event related |
| Search fee | max. 55 energy |
Items to Get
Edit
Ghost Banishers
Ghost Trap, Phial of Darkness, Old Amphora
Energy Sources
Soda, Energy Jam, Ethereal Catalyst, Bio Module
Gadgets
Bell, Hammer of Thor, Phase Watch, Solar Lamp, Magic Magnifying Glass
Helpers
Dragon Egg, Refreshing Dew, Silicon Flint, Bright Button, Thorium Ore, Golden Mask, Genie's Dwelling, Paranormal Trap
Maya Rune Chests
Small, Medium and Large Kit for Beginners
Beast Rune Chests
Small, Medium and Large Hunter Kit
Dragon Food
Lunar Nectar, Honey Drink, Sweet Roots, Sugar Cane, Azure Grapes
Trophy
About Clowns and Acrobats (Part of the reward chest)
Special Items
Fiery Sword: Fire Club, Fans, Hula Hoop, Fiery Cups, Fiery Poi Balls

Gymnastic Ball: Safety Ropes, Gymnastic Ribbons, Long Rope, White Gymnastic Shoes, Harness Belts
Circus WorldEdit
Eleanor: Once a year the Traveling Circus builds its tent in the city outskirts and presents its fabulous show. Let's hurry up to discover the world of circus magic and talented actors! The Circus world is a fantasy which doesn't exist in reality.
Create the Circus Key.
Explore the Traveling Circus.
Eleanor: Believe me, this Traveling Circus is an unforgettable sight. If you have a chance to see their show you should put all your work aside and see the performance. I went to their show last year and I still remember how spectacular it was. I am still feeding on the positive emotions from that presentation.
Circus ArtifactEdit
Quest
Item
Mode
Ghost
Circus Show Gear
Fiery Poi Balls
--
--
Riding a Unicycle in the Air
Fire Club
Fans
--
Jumbled
--
Fire Show
Hula Hoop
Fiery Cups
--
Shadows
--
Eleanor: When I saw all the Circus actors and their tricks, I had an epiphany. The actors of the Traveling Circus and the Professor possessed very similar skills. Could it be that the actors and the Professor knew each other? Could it also be that such fascinating skills run in the family of the Circus actors, and that they pass the knowledge of their trade from generation to generation?
Eleanor: Could it be that one person can create such bright, emotional and absolutely unrealistic shows? Of course, since I know Professor Bellows and his skills, nothing can surprise me now. But what is going on here? We should become friends with the Circus people and find out how they manage their tricks.
Gymnastic BallEdit
Quest
Item
Mode
Ghost
Clownery
Safety Ropes
--
--
Turtle Conjurer
Gymnastic Ribbons
Long Rope
--
Reverse
--
Trick Rider
White Gymnastic Shoes
Harness Belts
--
Puzzle
--
Eleanor: You and I have been fortunate to collect several wonderful items. They will be useful when we travel in the universe. I am sure that these items contain incredible energy of circus dynasties which travel around the world.
Eleanor: Do you also have genes of circus dynasties in your blood? Most probably you do. Whenever things would calm down in the Manor, the Professor could impress his audience with his skills to perform incredible tricks. Please, keep the Artifacts which you found during our explorations. You will need them soon.
Search Thingies
Edit
| | |
| --- | --- |
| Accordion | |
| Acrylic Sphere | |
| Animal Poster | |
| Bowtie | |
| Clown Boot | |
| Cobra | |
| Cockatoo | |
| Corrugated Pipe | |
| Diabolo | |
| Fan | |
| Frill | |
| Frisbee | |
| Frog | |
| Horn | |
| Jumping Rope | |
| Magic Wand | |
| Pin | |
| Poodle | |
| Stilt | |
| Stocking | |
| Strap | |
| Tamtam Drum | |
| Teddy Bear | |
| Tricycle | |
| Wig | |