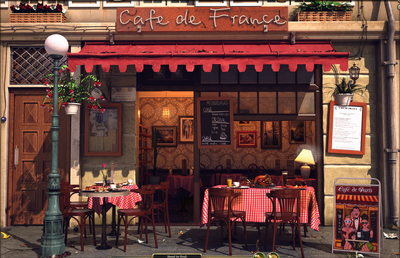 Main article: Secrets of Paris
You can always enjoy a cup of delicious coffee with a sweet croissant for breakfast in this cozy place on the River Seine.
| | |
| --- | --- |
| Unlock | x Coins |
| Entry fee | 36 energy |
| Duration | permanent |
| Search fee | max. 55 energy |
Items to Get
Edit
Special Items are things you can only get here and nowhere else. Regulars can be found in several locations. There are no dedicated quests for finding regulars, at least not after you have found them for the first time. After the quest, specials are getting regular.
Ghost Banishers
Ghost Trap, Phial of Darkness, Old Amphora, Paranormal Trap, Genie's Dwelling
Energy Sources
Soda, Energy Jam, Ethereal Catalyst, Bio-module
Gadgets
Bell, Hammer of Thor, Phase Watch, Solar Lamp, Magic Magnifying Glass
Helpers
Striped Shirt, Black Beret, Juggler's Knives, Clown Boots, Refreshing Dew, Silicon Flint, Bright Button, Thorium Ore, Golden Mask, Dragon Egg
Maya Rune Chests
Small, Medium and Large Kit for Beginners
Beast Rune Chests
Small, Medium and Large Hunter Kit
Dragon Food
Lunar Nectar, Honey Drink, Sweet Roots, Sugar Cane, Azure Grapes
Trophy
Coffee and Croissant
Special Items
Blond Curl: Hypnotic Hat
Book of Elves: Talking Pebbles
Celestial Dream Book: Celestial Umbrella, Reflecting Fog, Shiny Garnet, Hazy Dissolit, Brilliant Light
Cloud Song: Cirrus
Evaporating Pendant: Photon of Disappearance
Gloomy Silence: Space Frequency
Magic Sphere: Coffee Grouts
For quests please look at the Quests page!
Search Thingies
Edit
| | |
| --- | --- |
| Baguette / French Bread | |
| Bicycle | |
| Bicycle Helmet | |
| Black Hat / Hat / Top Hat | |
| Briefcase | |
| Butterfly | |
| Cheesecake | |
| Chickadee | |
| Croissant | |
| Gold Watch | |
| Ice Cream | |
| Lily | |
| Milk | |
| Mojito | |
| Napkins | |
| Newspaper | |
| Pineapple | |
| Pitcher with Juice | |
| Postcard | |
| Rose | |
| Teapot | |
| Turkish Coffee Pot | |
| Umbrella | |
| Violin | |
| Watering Can | |