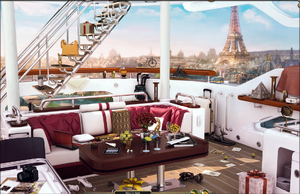 Main article: Secrets of Paris
This swift vessel takes VIP persons for boat rides. Outstanding service during boat rides and the mysteries of clients who went missing make this boat famous.
| | |
| --- | --- |
| Unlock | x Coins |
| Entry fee | 36 energy |
| Duration | permanent |
| Search fee | max. 50 energy |
Items to Get
Edit
Special Items are things you can only get here and nowhere else. Regulars can be found in several locations. There are no dedicated quests for finding regulars, at least not after you have found them for the first time. After the quest, specials are getting regular.
Ghost Banishers
Ghost Trap, Phial of Darkness, Old Amphora, Paranormal Trap, Genie's Dwelling
Energy Sources
Soda, Energy Jam, Ethereal Catalyst, Bio-module
Gadgets
Bell, Hammer of Thor, Phase Watch, Solar Lamp, Magic Magnifying Glass
Helpers
Striped Shirt, Black Beret, Juggler's Knives, Clown Boots, Refreshing Dew, Silicon Flint, Bright Button, Thorium Ore, Golden Mask, Dragon Egg
Maya Rune Chests
Small, Medium and Large Kit for Beginners
Beast Rune Chests
Small, Medium and Large Hunter Kit
Dragon Food
Lunar Nectar, Honey Drink, Sweet Roots, Sugar Cane, Azure Grapes
Trophy
Prospero's Millions
Special Items
Blond Curl: Sabot of Fate
Book of Elves: Wing Beat
Gloomy Silence: Open Dream
Golden Magnet: Pharaoh Mask
Mermaid Scales: Sodium Battery
Neutral Foil: Infernal Ring
Optical Reflector: Phase Harmonica
Pellet Postcard: Crystal Brooch, Emerald Dragonfly, Catchy Pendent, Turquoise Pin, Emerald Butterfly
For quests please look at the Quests page!
Search Thingies
Edit
| | |
| --- | --- |
| Anchor | |
| Captain's Peaked Cap | |
| Carbonated Drink | |
| Cell Phone / Smartphone | |
| Compass | |
| Coral | |
| Crab | |
| Feather | |
| Female Hat | |
| Fins | |
| Fishing Pole | |
| Flashlight | |
| Goggles | |
| Gold Watch | |
| Life Saver | |
| Melon | |
| Pinapple | |
| Sea Star | |
| Sea Turtle | |
| Shell | |
| Sun Glasses | |
| Tanning Lotion | |
| Towel | |
| Video Camera | |
| Wagtail | |